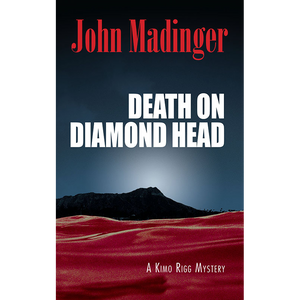 Death on Diamond Head
This title is currently available only in digital format. See below for purchase options.
A murder-mystery novel introducing the character of Honolulu police detective Kimo Rigg, a veteran cop whose career has been sidetracked by a whistleblower lawsuit. Now Rigg has landed in new hot water: a murder victim's body is dumped virtually on his doorstep, down the hill from his new house on Diamond Head. The murder has all the trademarks of the Double-Crosser — a serial killer HPD thought dead and done for five years ago. Rigg finds himself following a twisting path into the dark heart of a case no one wants reopened after a dead murderer who just might not be dead after all. And he'll have to solve this one quick, because the mug shot Homicide is showing witnesses is one of Riggs himself!

Author John Madinger grew up in Honolulu. He draws upon a 30-year law enforcement career, most of it spent in the Islands, to create the character of Rigg. A criminal investigator with the U.S. Treasury Department, he is the author of textbooks on money laundering and confidential informants, and has lectured around the world on financial crimes and criminal investigation.

Softcover; 184 pp.
Author: John Madinger
Release Date: December 2007

Now available in e-reader format:
Amazon Kindle
Barnes & Noble Nook
Kobo eReader


choosing a selection results in a full page refresh
Opens in a new window.
Opens external website in a new window.